Making the Journey to the Emirates:
A Path to Abundant Opportunity!
Moving to the United Arab Emirates is one of the best decisions you can make for your future. With world-class infrastructure, amazing culture and heritage, and a robust economy, the Persian Gulf Coast nation is an ideal place to live, work, and play. The Emirates is home to an increasing number of international residents and businesses, making it an attractive destination for settlers seeking a better life.
The UAE is renowned for its rule of law, tourism industry, and modern lifestyle. It is very progressive in terms of social and economic development, offering residents an enjoyable work life balance. In addition, the country is known for its comparatively low cost of living, providing immigrants the chance to save for their future. With its booming tourism and shopping districts, plus excellent access to higher education institutions, healthcare, and transportation, the Emirates is truly a mecca for a secure and prosperous future.
So if you are looking for a fresh start in a rich culture and economy, then the UAE should be high on your list when it comes to immigration decisions.
Take the plunge and enjoy the journey to the Emirates – you won't be disappointed.
What are the advantages of immigrating to the UAE?
High standard of education
and the most up-to-date teaching methods in schools and education system
The best transportation systems in the world, characterised by it's cost- effective affordability
Low crime rate
and very high security
Strong economy and high purchasing power
High level of medical system standards
Today, the UAE plays a very important role in the Middle East and the Persian Gulf region, boasting a growing and advanced economy, with favourable working and living conditions, hence, making it an exemplary destination for immigrants in professional and personal pursuits.
There are several important points to consider before immigrating to the UAE
The cost of living in this country is very high and you must have a good job and income to live a quality life.
One of the other disadvantages of living in the UAE is that you cannot get a permanent residence by working and living there for a long time. However, once buying a house in Dubai, you can stay for 5 years.
Due to its special geographical location, the UAE has high heat and humidity.
In Dubai, working hours are usually long and in some jobs require shifts longer than 8 hours. 
But in general, life in the UAE has the most ideal conditions, and with a precise and clear plan, you can have an ideal and prosperous life.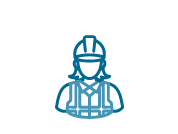 Obtaining a Work Permit in the UAE
Company Registration in the UAE
Migration of Medical Staff to the UAE
Dr. Sirous Ahmadi and the experts at Visayab Immigration Institute have been successful in registering over 5,000 cases for obtaining visas to various countries, such as Australia, Canada, America, Europe and East Asia in their 14 years of operation.
For specialized advice, call the institute's contact number or complete their evaluation form.